Description
[two_third]
[tabs]
[tab title="Overview"]
Discover real team building treasures with a fun twist in Sydney, On The Rocks!
Explore Sydney's best pubs, enjoy a beer, on Terra Firma or aboard Water Taxis and historic Tall Ships.
Excellent team building activities, corporate & social group treasure hunts with a bounty of fun suitable for everyone!
Enjoy a laugh and share a grand piece of Sydney's Historic Rocks.
Select Treasure Hunt packages from 1.5-3 hours.
Ideal fun corporate team building, group activities, birthday parties, Hens, Bucks, Incentives and quality team bonding events for 10-1,000 pirates/participants!
Fun, quality team building & social group treasure hunts with brilliant activities for clues!
Land-based or combine with water crossings of Sydney Harbour by Water Taxis, Ferry or Jet Boars. A Treasure Hunt on Sydney Harbour is a perfect team building or bonding activity.
A professional coordinator or our own pirate Captain Jack Sparrow, briefs your crew.
Pirate music and a rousing sing-along or quiet whispers & tall tales of true treasures. Mutineering teams in an engaging Sydney Harbour Rocks Treasure Hunt.
Challenging teams resourcefulness whilst sleuthing to locate a secured Treasure Chest hidden within the historic stores or Pubs within The Rocks. The Treasure Chest is filled with your team's engraved holy Grail trophy and other secret goodies.
Supplied:
Professional Coordinators and facilitators, dressed to your theme as Pirates, Convicts, or Captains.

Specialised Rocks Treasure Hunting Maps

Teams colour coded bandanas and pirating gear

Guidelines and safety systems with Challenge-By-Choice philosophy.

Clever content suited for corporate teams and social group events.

Holy Grail Trophy secured engraved with your company's or groups special occasional details.
[/tab]
[tab title="Activities"]
Sydney Treasure Hunting Activities
Decipher cryptic messages, overcome a variety of fun interactive team activities whilst searching The Rocks and Sydney Harbour for letters, symbols and coded messages.
Transport Options:
Most companies select walking. However you can include –
Water Taxis or Jet Boats pirating across Sydney Harbour, visiting the Sydney's Islands in style aboard Yellow Water Taxis or Water Taxi Limousines to Cockatoo Island with a stop at The Long Island Bar. Or walking the plank at Clark or Shark Island can be included!
En-route your team/crew may be intercepted to:

Teams eyes bear down on the lone Pirate as he takes on the challenge of opening the lock in time for his team!

Escape a convict Chain Gang for a treasure clue or two.
Conga Line or Jig to liven up the crew.
Sing a Sea Shanty in the Rocks Suez Canal
Investigate historic buildings and docksides
Imbibe & explode myths at the best Sydney historic Rocks pubs.
Perform a shoutout at The Australian (enjoy an Aussie Beer drinking challenge)
Rock on past The Orient Pub
Bribe The Lord Nelson at his favourite local pub (Enjoy Quayle Ale or a drop of Nelson's Blood)
Discover whats in at the revamped Argyle Stores!
Beware of smugglers and tunnels beneath the Hero of Waterloo
Enjoy the Harbour view hotels finest ale, and stunning Sydney Harbour rooftop views from the Glenmore Pub.
Teams & Crews roles are rotated at each checkpoint ensuring equal input.
Ultimately, a real treasure chest will be found through team tactics of strategy, wits and style.
[/tab]
[tab title="Location"]
Liven your day in The Rocks, Sydney with pirating fun – Make your way into Sydney history.
Bound off an exciting Sydney Rocks Quest!
Teams walk the plank from your Offices, Observatory Hill overlooking Sydney Harbour or within The Rocks, Conference venues, restaurants or a pub on The Rocks!
11 Sydney Harbour Rocks Pubs for our Sydney Treasure Hunt Finishing Celebration Locations:
1. Glenmore Hotel Rooftop address: Cumberland Street The Rocks.
Review; Splendid backdrop open air views with good ale.
2. The Australian Hotel Rocks Pub address: Cumberland Street The Rocks.
Review; Avast array of authentic Australian beer, atmosphere & Gourmet Pizzas spilling out onto Cumberland Street near BridgeClimb!
3. Lowen Brau Kellar , address: Cnr Argyle Street & Playfair Mall The Rocks. Lederhausen staff sind wunder-bar twzei Beir Bitte!
4. Lord Nelson Rocks Pub address: Top of the Hill Argyle Street The Rocks.
Battle of Trafalgar lingers, service with a smile and historic charm!
5. The Harbour View Pub The Rocks, address: Corner Cumberland Street and Lower fort Street, The Rocks. Nestled on Southern corner beneath Harbour Bridge aka Coathanger. Food gets great ratings. Chat with Tanya to set up corporate functions after a Thrilling Amazing Race or Treasure Hunt.
6. The Rocks Harts Pub Address: Gloucester Street The Rocks.
Managed by the Shangri-La, BBQ lunch is a $ bargain, 4 value it can't be beaten in The Rocks.
7. The Rocks Cruise Lounge and Bar address: Passenger Terminal Circular Quay.
Tom Cruise may not be found 'ere, a terrific Sydney Harbour setting for celebratory drinks.
8. The Rocks Bel Mondos Restaurant. Address: Gloucester Walk The Rocks.
Exceptional meals, Ritzy and Pricey, history embedded in building.
9. The Rocks Argyle Stores address: Argyle Street The Rocks; Swanky, almost Sophisticated, yet keeps its Historic charm. Great lounges intimate settings for group gatherings.
10. Opera Bar address: Circular Quay Sydney Opera House area; by the waters edge, excellent capacity for large corporate & social group Treasure Hunt events.
11. Bavarian Beer Cafe, Harrington Street The Rocks.
[/tab]
[tab title="Enquire Now"]
We customise BUSHSPORTS Treasure Hunts content for Corporate & Social Groups.
CALL The Bushsports Fun Team Events Crew on 02 9871 3333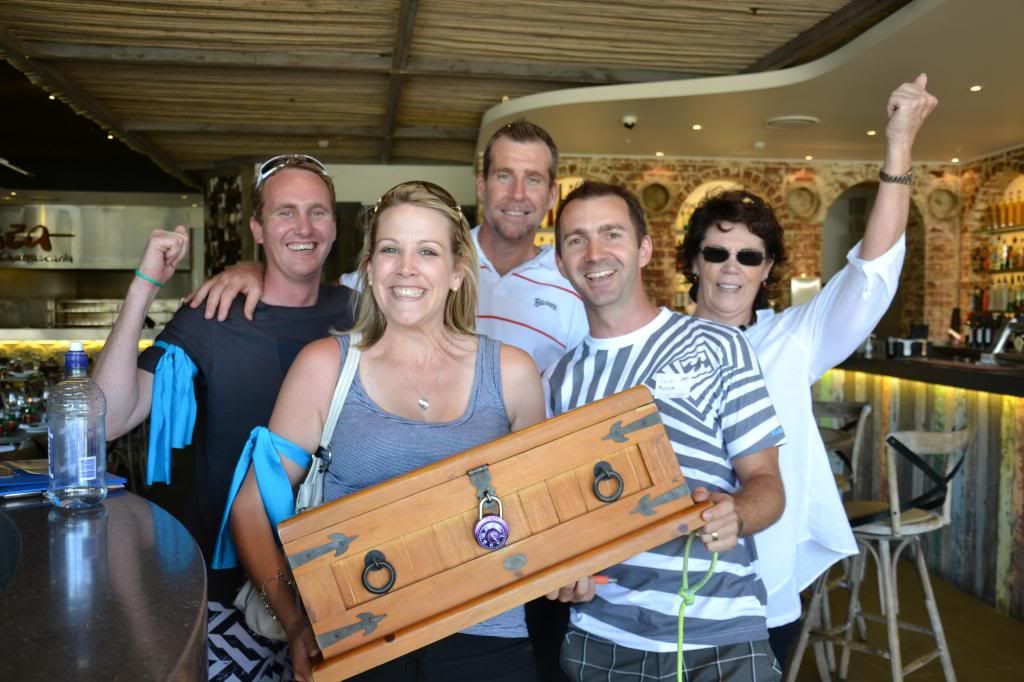 Teambuilding References:
Macquarie Partners:
"We were very satisfied with the program. Many people said 'I could not have done it on my own' – a convincing comment that showed it was possible to work through as a team. The program exercised and improved our team work skills and we had fun while doing so. The excitement of retrieving clues, unscrambling the mystery word and solving the code on the lock. Challenging, achievable, and competitive yet fun. The whole event was great!"
NASPO:
"Normally I dread team activities, however thoroughly enjoyed the Treasure Hunt and got to see parts of the Rocks I never had visited, gaining a greater insight into our history."
[/tab]
[/tabs]